Sod offers a fast and effective solution to dead, dying and/or unhealthy grass.
There are fewer active lawn diseases during fall, and weeds tend to taper off, meaning your grass won't have to compete as much for access to sun and water. Sunlight begins to increase during fall as the tree leaves begin to drop. Moisture is key to growing a healthy lawn of grass, making spring the second-most popular (but less ideal) season for seeding.
Your business is just as important as ours. Like any other turf, the lawn around your business requires attention and service. Our flexibility and ability to customize a lawn care program for your property allow your business to make a great first impression.
Patio and Fire Pit Pavers
Florida's weather is an excellent setting for Fire pits and patios to gather on cooler nights with family and...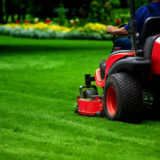 Yard Work
We offer weekly, bi-weekly and monthly maintenance services for residential and commercial properties.
Landscaping
If you want to make an addition to your landscaping or get a whole new view; we can take...